All about Commercial Real Estate & Property Management in Orlando, FL
Liam Pool
A commercial rental property in Orlando comes with its own benefits and challenges. If you've been mostly investing in residential properties and you're thinking about diversifying your portfolio and buying up commercial rentals, there are a few significant differences you'll have to be prepared for as you navigate the investment process. 
First, let's talk about the types of commercial property that may be available in Orlando. At Homevest Management, we work with retail investment properties, executive office suites, and service-focused spaces such as spas. As an investor, you can also consider industrial buildings and warehouse spaces. In the Orlando market, however, the best opportunities are in the areas that support our broad tourism and professional economies. 
As you decide where to invest and what to buy, think about how you want your lease structured, what you'll need from an expert commercial property management company, and how you'll measure success when evaluating the return on your investment. 
Identifying a Profitable Commercial Rental Property 
What should you be looking for when you decide to invest in a commercial property? 
It depends on your investment goals, of course. But, there are a few things that stand out as qualities that all profitable investments have. These include:
Good location. You don't have to be an experienced real estate investor to understand that location is everything. With commercial space, it's even more important. That's because your tenants are running businesses, and those businesses have to be easy to find. They need to be accessible to their customers and the general public. 

Flexible size and space. You don't know what kind of layout your commercial tenants are going to want, and you may need to make some adjustments to your space in order to meet their needs. So, choose a commercial property that can be easily altered. If cubicles will need to be constructed, for example, or conference rooms carved out of a large open space, evaluate your investment for whether that would be possible and cost-effective. 

Functionality. Consider what the property is currently being used for. Look into any zoning laws or regulations. If there are tenants occupying the space now, look at what their rental history tells you. If it's vacant, investigate what the space was used for previously. 

Building age and condition. Is the property in generally good shape? If there are more than cosmetic improvements that will be needed, factor those costs into your budget as you're making an offer.
Buying the right commercial property is necessary to a profitable investment experience. Take the time to do your due diligence and work closely with an Orlando real estate agent who specializes in commercial spaces. 
Partnering with a Commercial Property Manager in Orlando 
Property management will be a large part of your process. 
Instead of waiting until after you close the deal, bring in a property management partner while you're considering the purchase. You'll get a better idea of what kind of rent you can expect, how your lease will be structured, and what types of commercial tenants are best. Property managers can help you estimate the annual cost of repairs, improvements, insurance, and taxes as well. 
Property management for commercial properties operates a bit differently from the way it does with a residential property or portfolio. The key differences start with the fee structure. 
Every management company will be different when it comes to what they charge and how they charge. At Homevest, our commercial management fee is 8 percent of the total lease. We charge a flat 8 percent management fee in general, and we also charge 8 percent on the lease renewal. This isn't set in stone; what we negotiate typically depends on the type of property we're working with. It's a good marker that you can use to budget for property management services, however. With a residential investment, you might be accustomed to paying a high leasing fee – 75 percent to even 100 percent of a month's rent, in addition to that flat monthly management fee. 
The way your property manager deals with tenants will also be a bit different than it is with a residential property. The relationship is still important and needs to be based on good customer service. 
As you can probably guess, residential tenants are primarily concerned with paying rent and utilities. Commercial tenants, however, are sometimes also responsible for expenses like property taxes, insurance, and maintenance fees. These expenses are often paid in accordance with different types of commercial leases. 
Your property managers will be the point of contact for your tenants, similar to when a residential lease is in place. We'll manage the rent collection, the maintenance or repair concerns, and any other issues that arise with your tenants. We'll protect you from liability and risk, keep your property compliant with all state, federal, and local laws, and ensure it's a productive and positive rental experience for everyone. 
Managing Commercial Lease Agreements 
Leases tend to vary when we're talking about Orlando commercial properties. 
While the basic concepts and terms of a commercial lease are similar to a lease you might have signed when renting out a residential space, there are plenty of nuances with a commercial lease, and there are even different types of lease agreements you can sign for your commercial property. 
Residential leases are often highly regulated with some terms that cannot be changed by law—even if both parties agree to waive those terms. But commercial leases are far more flexible and have no real legal restrictions beyond basic contract law.
Your commercial lease is far more customizable than a residential lease ever would be. While most residential leases use virtually identical boilerplate language, you must carefully negotiate and review a commercial lease to ensure that it contains everything you think it does.
Most commercial lease terms are for more than a single year. You'll likely sign a lease for between three and 10 years. The renewal options are also flexible. Talk to your property manager about the best terms to protect your property and keep your investment profitable. 
Here are a few of the most common lease types when we're talking about commercial space: 
Net lease. With a net lease, your tenant will pay property taxes, insurance, and maintenance in part or in full. That will be in addition to the stated rental amount. So, you'll have fewer financial obligations as the owner of the property but you'll have to adjust your rent to compensate for the additional costs that your tenant is agreeing to take on. 

Double net lease. In this type of lease, your tenant will pay the property taxes, the property insurance, and the rental amount. 

Triple net lease. Here, your tenant will pay the property taxes, property insurance, maintenance costs associated with the building or the unit, and the monthly rental amount.

Percentage lease. You'll charge your tenant a rental amount that's based on a percentage of the tenant's sales or profits. In this type of lease, you'll be as invested in the tenant making money as they are. 

Full-service lease. This is a lease wherein the tenant will pay rent, which is inclusive of utilities and any other services that the tenant might pay for as separate bills. This is common in office buildings, where you might have several different tenants and you keep all the utilities on one common account and then include those costs in your rental amount. 
Make sure your lease agreement includes the rental amount and any other costs or expenses inclusive or exclusive of that rent. You'll need a commercial lease agreement that includes who is responsible for maintenance, common areas, parking, etc.
Benefits of Commercial Property Management 
How can commercial property management help you maximize what you earn and reduce what you spend? In some of the same ways we help residential investors. 
Property managers understand the local rental market and what commercial tenants are looking for. Before you even buy a property, you can get a detailed assessment of how much you're likely to earn, who is likely to rent your property, and what you can expect for lease terms and maintenance. You'll limit your vacancy time thanks to the strategic marketing and advertising a property manager can provide.

Collecting rent and holding tenants accountable to the lease agreement is another benefit to commercial property management. Generally, well-screened commercial tenants are pretty reliable. They are running a business out of the space they're renting from you, and they want to avoid conflict and disputes. Having the relationship managed by a professional, however, frees up your time and resources and produces better results.

Managing commercial tenant relationships 
Good property managers identify, screen, place, and retain the best possible tenants for your commercial space. Your property management partner will be responsive, provide resources, and hold tenants accountable. Maintenance needs will be responded to quickly, and you can expect routine inspections from your management partner.

Professional tenant relationships and open communication leads to happy, long term tenants.
Limiting vacancy and turnover
Failing to attract, place, and retain good tenants is a major pitfall to commercial property self-management. If you have a large mall or an office building with 10 spaces and half the units are empty, you're going to lose a lot of money.

Property managers understand tenants. They can negotiate better deals, set competitive but profitable market rents, and work with you to increase the overall occupancy rate for your property.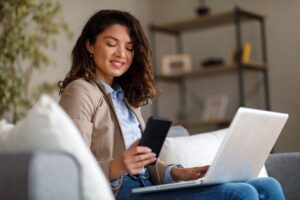 If you'd like to talk more about commercial property investments, please contact us at Homevest Management. We provide expert Orlando property management, real estate, property rentals, and HOA management serving all of Central Florida, including Winter Garden, Doctor Phillips, Baldwin Park, Winter Springs, and Windermere.