Debunking Common Orlando Property Management Misconceptions
Liam Pool
An experienced Orlando property management company will have the tools, resources, and knowledge to provide a positive and pleasant rental experience for both tenants and owners. You hire us to protect your property and keep it profitable. Serving and responding to your residents is part of that. With happy tenants in place, you're more likely to have rent paid on time and your property protected from damage and excessive wear.
There are a lot of myths that revolve around professional property management. We want to debunk some of those today, so you can have a clear understanding of how we work and what you can expect when you hire us to lease, manage, and maintain your Orlando investment.

Myth: Wear and Tear is the Tenant's Responsibility
After a tenant has lived in your home for a year or more, we'll conduct an inspection and compare the condition of your property after the lease term to the way it looked before tenants took possession. There's likely to be some wear and tear, and many owners expect that we'll charge the security deposit for that minor deterioration.
But, we cannot.
We can only withhold money from your tenant's security deposit if there's damage or unpaid rent. The general wear and tear is expected from every tenancy and it's the responsibility of the property owner. The small nail holes and the scuffs on the wall from paintings and furniture are going to be your responsibility. That worn carpet from high traffic areas is also yours to replace.
Myth: Pets Will Destroy My Home
A lot of rental property owners hesitate to allow pets. This is understandable; with pets comes risk. Animals can damage your home, dig up the landscaping, and potentially bite or scratch neighbors and visitors.
However, with a strong pet policy in place, you can actually earn more on your rental property when you rent out a pet-friendly home. For example, you can charge a non-refundable pet deposit. If you need it for extra cleaning or repairs after the tenant has moved out, you can use it. You can also charge extra rent every month. Tenants are always willing to pay pet rent for the privilege of living with their furry family members.
Allowing pets reduces vacancy time and increases tenant retention. It's not often we come across damage that exceeds the security deposit and the pet fees a tenant pays.
Myth: I'll Lose Control of My Property
You're the property owner and you'll always be in control of your asset.
When you hire professional property managers, you're relying on their experience and education to effectively and efficiently take care of your property and your tenants. While you may not be involved in every single day-to-day decision, a good management company will communicate with you regularly so you feel comfortable with everything happening at your property.
Myth: Property Management is Expensive and Unnecessary
If you have the time, knowledge, and experience to manage your own rental property, we can understand the inclination to do it. But, if you're an investor or an owner who has better things to do, professional Orlando property management is actually a money saver.
When you work with professional property managers, you do pay a monthly management fee, and there's likely a leasing fee as well. However, you need to remember that those fees are tax-deductible. Also, you more than earn that money back. Here's how a property manager can actually save you money:
Lower vacancy and turnover costs.
Accurate rental property pricing.
Lower maintenance costs due to preferred vendor networks that offer volume discounts.
Protection against legal mistakes.
Recommendations on upgrades that will increase rental value.
Tenants have their own set of myths. Sometimes, they think that every minor maintenance request should be responded to right away. They might believe they have the right to paint the walls or take care of maintenance on their own. We work hard to educate them on expectations and responsibilities, and we reinforce that messaging throughout the lease term.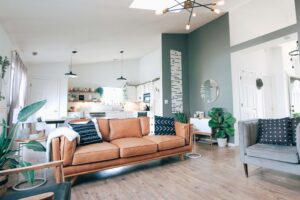 We're happy to talk more about the myths you may have heard about property management. Our goal is to provide you an outstanding rental experience. Let us know how we can help and contact us at Homevest Management. We provide expert Orlando property management, real estate, property rentals, and HOA management. We serve all of central Florida, including Winter Garden, Doctor Phillips, Baldwin Park, Winter Springs, and Windermere.