Should You Invest in Single Family or Multifamily Properties? Orlando Property Investment
Liam Pool
Investors deciding between a single-family home in Orlando or a multi-family property have a lot to consider. Each rental property comes with its own advantages and challenges, and the decision really comes down to whether you're hoping to maximize your cash flow right away or whether you're settling in for the long term and waiting for values to appreciate over time. 
Our advice, of course, is to diversify your real estate portfolio whenever possible. If you can, include a mix of single-family homes and multi-family properties, especially when you're looking for acquisitions in a market as diverse as Orlando. This is a competitive market right now, and you need to be prepared for it. Investors from all over the world are grabbing what they can when it comes to rental property. 
Orlando is a unique rental market. It's also diverse. It has everything; short-term vacation rentals and long-term rentals in HOA neighborhoods. It has old homes and new construction. You can be as selective and intentional as you want. 
As you're deciding whether a single-family home or a multi-family property would be better, start with your own goals and your vision for where owning rental property will take you. 
Understand Your Own Investment Goals
This question has to be answered thoroughly before you choose a specific type of investment property. If you're looking for cash flow, the path you take will be much different than if you're looking for equity or appreciation. Perhaps you want a combination of cash flow and appreciation, which is ultimately what strong cash on cash return becomes. 
If you aren't clear on your investment goals, you'll have some real trouble deciding between single-family homes or multi-family units. So before you go shopping for your first rental property or even your seventh or eighth rental property, make sure you've established and reviewed your priorities and your investment goals. 
You also have to understand the Orlando rental market. Get to know the inventory and the neighborhoods. Before you make your decision, make sure you understand the local rental values, the vacancy rates, and what the tenant pool looks like. 
Investing in Orlando Single-Family Homes
The demand for single-family rental homes is always strong in Orlando, and it has actually increased throughout the beginning part of this year. Renters are looking for space, privacy, and convenience, and in many ways, a single-family home can provide that. When you decide that this type of investment is best for you, there's a good chance you can count on a strong tenant pool and an ongoing demand. 
Another benefit to buying single-family versus multi-family homes is that tenants tend to be more stable. You won't have the higher turnover that's often found with multi-family properties, and that's something to consider if you don't like vacancies or the uncertainty of new residents coming and going every year. 
From a financial standpoint, single-family homes are unlikely to deliver a lot of cash flow right out of the gate. You'll need to be prepared for the long game, which will absolutely pay off later. Single-family homes in Orlando will appreciate in value and deliver high returns when you're ready to sell down the road. 
Investing in Orlando Multi-Family Rental Properties
A multi-family investment that's well-maintained and attractive to high-quality tenants will also earn you money. 
There's less of a vacancy risk with these types of properties, and that's an excellent argument in favor of a portfolio full of units in a single building. Even buying an entire apartment building can generate ongoing income right away. 
The risk management is simple: when you invest in one single residence, all of your income relies on the tenants in that one property. But when you have a duplex, you have two income streams. If one tenant moves out, you're still earning something. If you have a six-unit building or a 10-unit building, there's even less of a risk that you'll be hurt financially when a tenant moves out. 
There's also the benefit of lower per-unit maintenance and management costs. 
Typically, single-family investments are going to cost more to repair and maintain preventatively. When you have a building or a selection of multi-family units, you can have all the preventative work and the service checks and the inspections done at the same time.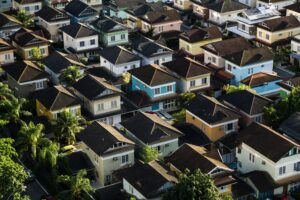 Deciding between single-family investments and multi-family investments is a nice problem to have. Talk to us about your investment goals and what you hope to accomplish. We'll steer you in the right direction. Contact us at Homevest Management to talk more about how to invest in single-family and multi-family properties in Orlando. We provide expert Orlando property management, real estate, property rentals, and HOA management. We serve all of central Florida, including Winter Garden, Doctor Phillips, Baldwin Park, Winter Springs, and Windermere.