5 Benefits of HVAC Preventative Maintenance | Orlando Property Management
Liam Pool
Preventative maintenance is something that every Orlando rental property owner needs to prioritize. It's the best way to protect yourself against costly emergency repairs. It preserves the condition and value of your investment.
One of the most expensive systems in your rental property is the HVAC system. This is especially true in Orlando, where Florida summers often feel 10 months long. Your tenants will need reliable air conditioning. Heat and ventilation are also important and contribute to indoor health and efficient energy usage. You can look at using companies akin to Valley Service to have them installed and updated so you are assured that your equipment is in working order. An alternative would be to look at local businesses that specialize in installing air-cons for tenant buildings.
We highly recommend a service contract with a reputable HVAC contractor who can service and inspect your system at least once a year. Those in the Carolinas may want to look into professional and experienced contractors in their area, such as Wilmington AC Repair, who can help them out when their AC lets them down on a sweltering day. Here are five benefits to this type of preventative maintenance schedule.
Your HVAC System Will Last Longer
Most HVAC systems can be expected to work well for 15 to 20 years. They cost thousands of dollars, so you don't want to be replacing them every few years. With preventative maintenance and routine service calls, you'll extend the life of your heating and cooling system and maximize the time you have with it. A poorly maintained furnace or air conditioner will not survive 20 years, and you'll be looking at expensive repairs and replacements over time. Thus, getting in touch with specialists such as the DUCTZ of DFW North and similar others could prove fruitful in assisting you to increase the longevity of your HVAC system!
Preventative Maintenance Increases Tenant Retention
We don't know a lot of tenants who will remain in a property that doesn't have reliable air conditioning during an August in Orlando. With annual or biannual preventative service appointments, your HVAC technician will clean and inspect the entire system and test its internal components. Your tenants will enjoy a system that works well and is easily maintained. Remind them about filter changes and everyone will feel more comfortable will a well-maintained heating and cooling system.
Air Quality Is Improved Inside the Home
The "V" in HVAC stands for ventilation, and it's often forgotten. Tenants will appreciate the air quality inside the home when your system is working efficiently. Many companies, such as this One Hour AC and Heating company, will also offer air quality services as well, to ensure the air in the home is healthy and clean – it is a really important service to have! It can become toxic if the air being breathed in every day is dirty. There are tons of allergens in the air and lots of dust that enters the system, especially if there are pets in the home. All the air in your rental home passes through the furnace filter. Your service technician can make sure the filter is doing what it should; removing trapped dirt, pollen and allergens from the air inside the home.
Energy Bills Will be Lower
An inspection from a professional service technician ensures your HVAC system is working at peak efficiency. If not properly cleaned every year, your system could be losing up to 40 percent of its energy efficiency, which is going to mean higher electric bills. Properly maintaining your system is the best thing you can do to keep energy bills down, which is great if utilities are included and you're paying for them. Point this out to your tenants when they maintain their own utility accounts so they understand the value you are providing to them with preventative HVAC maintenance.
Reliable Heat and Air All Year Long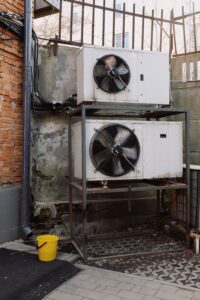 When the Orlando heat and humidity settles in, your tenants rely on your air conditioner to keep the home comfortable. The air conditioner includes an inside and outside air unit. It's important to clear debris from the cooling coils on the outside unit to keep the system running properly. A plugged coil is the primary reason air conditioners fail in the hot, summer months. With preventative visits from a qualified service technician, the coils will be cleaned and inspected.
There are many more good reasons to pay attention to your Orlando rental property's HVAC system. If you'd like to talk about this further, please contact us at Homevest Management. We provide expert Orlando property management, real estate, property rentals, and HOA management. We serve all of central Florida, including Winter Garden, Doctor Phillips, Baldwin Park, Winter Springs, and Windermere.