Better Understanding the Fair Housing Act Updates – For Orlando Landlords
Liam Pool
It's very easy to make a fair housing mistake, especially if you're managing your own Orlando rental property without the experienced help of a professional property manager. Most landlords don't set out to intentionally discriminate against people, but you can violate a part of the Fair Housing Act without even realizing it. 
With constant changes and updates to the fair housing laws, the way you market your property and screen your tenants is really under a microscope, and errors are costly. 
We've stayed up to date on all the changes in fair housing, and we have a process that's fair, consistent, and legally compliant when we're qualifying residents. We can help you with your fair housing concerns and keep you compliant. 
Advertising Your Orlando Rental Property with Fair Housing in Mind
When you're marketing your rental home, you can include details in your listing that discuss the home's size, what the rent will be per month, when the home will be ready for occupancy, and what the property's benefits are. Maybe those unique characteristics are updated kitchen appliances, a soaking tub in the master bathroom, or a fenced backyard. 
You cannot say it would be "great for single professionals." You cannot say it's close to churches. This type of language can be seen as discriminatory against several of the law's protected classes. 
Keep your rental property marketing accessible to everyone who is qualified. Including or excluding certain groups like families or religious minorities can be seen as discriminatory. Keep your advertising focused on what the property is and what it has to offer. Don't make assumptions about who would want to live there and don't talk about the types of tenants you would prefer. 
Establish and Document Qualifying Rental Criteria
Put together a standard rental criteria or a set of qualifications, and put it in writing. Provide it to any tenant who is interested in filling out an application. Then, make sure you follow your own standards consistently every time you screen a potential tenant. 
One area of the law that's become more controversial than usual is criminal background checks. In some cities on the west coast, you cannot even run a background check when you're screening a tenant. In Orlando, you can still use criminal background as part of your rental criteria, but be careful about making blanket statements. If there's a conviction in an applicant's background, take it on a case by case basis. 
Examine the criminal offense. If it's a violent crime, you'll have an easier time rejecting the application than if it's something that wouldn't immediately give you cause to worry about the health and safety of neighbors or the condition of your property. 
While you want to avoid lawsuits by saying you'll consider past felonies on a case by case basis, remember that you have to screen each application the same way, otherwise you could be accused of discrimination. Denying one applicant because of a felony 20 years ago is not going to hold up in court if the tenant you eventually place also has a felony from 20 years ago. Be consistent. 
Service and Support Animals are not Pets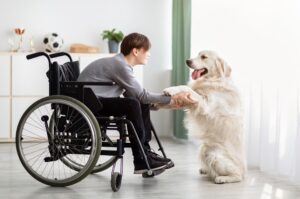 As a landlord, it's your decision to allow pets or not allow pets in your Orlando rental property. However, you cannot deny tenants with service or support animals. The fair housing laws do not consider those animals to be pets. They are, instead, accommodations. You have to make sure you understand the difference, and you cannot charge pet rent or a pet deposit on a service or companion animal. 
We know fair housing laws can be complex and sometimes confusing. We can help. Contact us at Homevest Management to talk more about how you should be screening and placing tenants. We provide expert Orlando property management, real estate, property rentals, and HOA management. We serve all of central Florida, including Winter Garden, Doctor Phillips, Baldwin Park, Winter Springs, and Windermere.