Tax Time Benefits of Hiring a Professional Orlando Property Management Company
Liam Pool
There are many benefits to working with professional property managers in Orlando. One of those benefits, which is often overlooked, is the fact that you can count on expert accounting and bookkeeping for your investment, whether it's a single property or an entire portfolio. 
You should enjoy a careful tracking of the income and expenses associated with your investment, as well as routine financial reports and accounting statements that reflect where you are and what might help you have a better investment experience. 
There's also tax time to think about. 
Most real estate investors have a CPA or a tax accountant who helps them file their taxes, and your property manager can also be of assistance by providing accurate documentation that supports what you're claiming as income and losses. 
We can help you ensure you're taking all of your potential tax write-offs. In this blog, we're talking about some of the most important tax benefits real estate investors can earn.
Depreciation as a Tax Benefit for Orlando Rental Homes
A major tax benefit for rental property owners is depreciation. Make sure you're taking advantage of this deduction. 
The IRS allows you to write off the deterioration of your rental property, which leads to a loss of value. The general rate of depreciation is set by the IRS at 27.5 years. 
That's not an inconsequential amount of time, and the tax code allows you to accelerate the depreciation loss with your rental property. Most investors use this to offset their tax liability.
Talk to your CPA or your tax accountant. But generally, you'll declare the rental property depreciation on Schedule E of a standard 1040. If you're claiming depreciation on a property in the year that you began using it as a rental, you'll use Form 4562. We're property management experts, but consult with your tax expert, too. 
You cannot claim depreciation unless you meet the following requirements: 
The property must be owned by you.

The property must earn rental income.

You must be able to document the useful life of your property. This will depend on the type of rental investment you own. Everything has a different life cycle, or rate at which it wears down. For real estate, this is somewhat standardized and the 27.5 years applies, unless your property is subject to the Alternative Depreciation System, in which case it's 30 or 40 years (this is rare).

The useful life of the property must be greater than 1 year. Nothing that wears out in less than a year can be depreciated on your taxes.
If you begin renting out a home in one year and sell it within that same year, you cannot claim depreciation on that property. 
Deducting Business Expenses on Orlando Rental Property
Your rental property is a business that earns income. 
Because it's a business, many of the expenses you incur as a business owner are tax-deductible. There are a few deductions you should always take advantage of when you're claiming tax benefits. 
Mortgage interest 

Insurance costs 

Professional property management fees

Additional professional fees such as accounting or legal costs

Maintenance and accelerated depreciation on household items

Travel costs involved in visiting your rental properties
Make sure you have the documentation to support every deduction you make. The IRS allows you to deduct only the ordinary and necessary expenses for managing and maintaining your rental property. 
You can make tax deductions for the money you spend preserving the asset's value and condition. You can also deduct general business costs, for example advertising a vacant property. That's seen by the IRS as a necessary business expense, so you can deduct that cost. 
Maintenance costs are deductible as well, but you have to be specific about what you're maintaining. And, be careful about what you consider maintenance and what is considered an improvement. The costs of materials and supplies when you're maintaining your home are deductible. Anything that needs to be done to keep your property in good condition is acceptable. 
Improvements are not tax deductible, however. Anything you spend keeping your property safe and habitable is one thing. But, you cannot deduct for new wood floors when you decide to replace your carpet. The IRS does not allow you to deduct the cost of improvements that lead to the betterment of your property value.  
Defer Your Capital Gains Taxes with a 1031 Exchange
A lot of investors are selling their rental properties. The market is hot, especially in central Florida, and home values are soaring. 
If you do sell, you will likely have some serious profits to report to the IRS. 
That will result in capital gains taxes unless you defer the payment of those taxes. 
To defer the capital gains taxes you'll have to pay on the sale of an investment property, we recommend that investors consider a 1031 exchange. When you take advantage of this tax benefit, you are going to sell one rental property and then use the proceeds to invest in a similar property or a series of properties. It won't wipe away your tax liability entirely, but it will give you the opportunity to strengthen your investment portfolio and delay paying those taxes. 
There are several important steps and timelines associated with a 1031 exchange. You need to move quickly to identify and close on a new property after you've sold the existing property. 
Also:
Make sure your property qualifies for this benefit. This tax program is meant for investment homes. You cannot sell the home you've been living in and reinvest the money to buy a vacation home. It has to be one income-producing property for another.  

You'll need to exchange with a like property or properties. The new property you choose must have a value that is the same or higher than the original property. If you walk away from the exchange with any profit, they will be taxable. 

Find one property, two properties, or three to exchange with your current property. 

Pay attention to the timelines. You'll need to identify a replacement property within 45 days of selling your original property. Then, you have 180 days to close on the new sale. The entire exchange must take place within the 180 days (meaning you don't have 45 days plus 180 days – the clock does not reset). This can be a challenge now, with the market so hot and inventory lower than the demand. Be prepared to move quickly.
When you're conducting this transaction, it's absolutely necessary to use an intermediary. Make sure you aren't taking any of the cash from the sale of your property. The intermediary will hold your funds until they can be reinvested in your new purchase. Ask your property managers for a referral if you're not sure who to work with. 
If this makes sense to you, it's possible to sell one rental home and invest in another without any of the tax liability that comes with selling investment property. It's an excellent tax benefit that's often underutilized by real estate investors. 
Don't be afraid of those real estate losses when it comes to your investment portfolio. They can actually help you at tax time, and if you've surrounded yourself with some great property management partners and tax professionals, you're likely to earn more and lose less on your entire portfolio. 
Setting up an LLC for Orlando Investors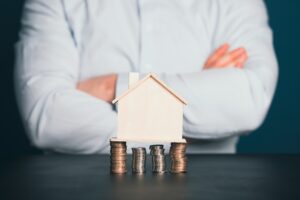 Many Orlando real estate investors set up a Limited Liability Company (LLC) to manage their investments, protect themselves from risk, and set up more favorable tax circumstances. 
Even if you're the only member of your LLC, creating one will limit your financial liability and protect you against lawsuits that may name you personally. With a corporate structure, you can invest in property without putting your personal assets and wealth at risk.
Another advantage to working within an LLC is pass-through taxation.
This means that the LLC does not pay taxes; the business owner pays the taxes, thus eliminating the double taxation that occurs if you were to form a corporation. If you are the sole member of your LLC, you will be taxed similarly to a sole proprietorship while enjoying the additional benefit of liability protection.
A multi-member LLC may be handled differently. Taxes are still passed through the LLC to the members; however, the members must complete a Schedule C, Schedule K, or Form 1065 with their income tax return. Each member of the LLC will claim their share of the income, not the entire income that the LLC earned that year.
One of the major benefits of having your property owned by an LLC is that you will be able to take certain deductions on your taxes that you otherwise would not be eligible for. Additionally, if you run your company out of a home office, you may even be eligible for other additional deductions, such as utilities, repairs and maintenance, or dwelling insurance costs.
We'd love to talk through some of your options when it comes to taxes on your Orlando investment property. Please contact us at Homevest Management. We offer expert Orlando property management, real estate, property rentals, and HOA management serving all of Central Florida, including Winter Garden, Doctor Phillips, Baldwin Park, Winter Springs, and Windermere