Short Term Gain or Long Term Appreciation: What Every Orlando Investor Should Consider
Liam Pool
As an Orlando investor, your investment goals are going to drive every decision you make. When it comes to buying and selling, making upgrades and improvements, or taking advantage of tax benefits and programs, you're going to make decisions based on your unique investment goals. 
For some property owners, earning as much cash as possible is their main goal. That's not always a sustainable strategy, however, and investors interested in long term appreciation are usually more likely to build wealth and grow their portfolios. 
Orlando Investing is Long Term
You have to think about investing as a long term plan. Despite what you may hear from a lot of investors who are trying to sell you on their way of doing things, this is not a get-rich-quick scheme. Focus on the long game, especially in Orlando where the sales market is hot. Everyone wants to own property in Florida, and while rental values are keeping up with sales prices, unless you own your house free and clear, you're going to want to focus on appreciation rather than cash flow.
Choose the Right Orlando Rental Property
You won't earn any money as a real estate investor unless you identify the right opportunities and buy the right investments. 
With most rental properties, even in an investor-friendly market like Orlando, the cash flow will take some time. This should not dissuade you. If you've invested in a good property, you started earning money as soon as you closed the deal. 
The right Orlando investment property will attract stable tenants and deliver higher rents. You'll also see your property value increase consistently in the short and long term. That's the path to building wealth with real estate. 
Capital Appreciation Leads to Increasing Value
Capital appreciation is the increase of a home's market value compared to its purchase price or acquisition cost. When you factor appreciation into your investment strategy, you'll see that it will help you earn the income you're hoping for as the property increases in value.  Orlando real estate values are going up, and they will likely continue to increase.
Increase Rental Values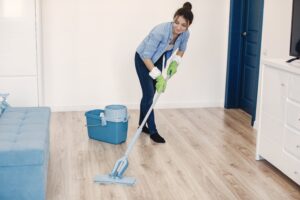 You can earn more on your investment property in the long term when it's well-maintained, modern, and attractive to high quality Orlando tenants. If your kitchen has appliances that are 40 years old and your bathroom floors are linoleum from decades ago, you're probably losing good tenants. You won't see your rent climb any higher, either. 
Make sure the home is clean, painted, and shows well. 
If your home is new and already in great condition, don't spend a lot on upgrades now. To really maximize your investment, you'll want to wait until you need to begin replacing things such as floors, appliances, and fixtures.
We understand that earning immediate cash flow is attractive. In some cases, it can be done. However, we want you to understand that the real value in real estate investing comes with your long term ROI. 
If you have questions about this, please contact us at Homevest Management. Our team provides expert Orlando property management, real estate, property rentals, and HOA management. We serve all of central Florida, including Winter Garden, Doctor Phillips, Baldwin Park, Winter Springs, and Windermere.